End-to-End Email Fully Auto-Encryption will become the standard for Email Security Solutions
MeSign was invited to attend the "2019 Info Security Europe"
London, UK – June 06, 2019.Mr. Richard Wang, the CEO of MeSince, was invited to attend the three-day (3rd Jun – 5th Jun) '2019 Info Security Europe' in London, UK. Here is his report from the Expo.

This Expo was attended by more than 300 exhibitors, including most of the globally well-known cybersecurity service providers. Every exhibitor has shown their latest cyber security aspects totaling 81 categories, they have covered almost all aspects of cybersecurity including Anti-malware, anti-SPAM, anti-virus, mobile APP security, patch management, secure coding, web application security, AI and machine learning, business continuity, data breach incident management, disaster recovery, incident response, security information and event management, compliance audit , compliance governance, legal risk, legislation and standards, PCI-DSS, security policy, IoT security, SCADA security, data breaches, data loss prevention, database security, information management, information risk management, privacy protection, secure disposal, secure storage , fraud detection, IT forensics, log management, digital signatures, PKI/CA, SSH, SSL, insider threat, social engineering, identity access management, authentication tokens, biometrics, digital rights management, single sign on, two-factor authentication, virtual authentication, email security, instant messaging security, social media security, web security and web filtering, cloud security, security consulting and professional services, managed security services, security service outsourcing, security as a service (SaaS), BYOD Security, mobile access management, mobile device management, access rights management, blockchain security, end-point security, firewalls, incident/intrusion detection, intrusion prevention and detection, network access control, penetration testing, security monitoring, unified threat management, virtualization security, wireless security, security accreditation, security education and publishing, e-commerce payment security, secure transactions, big data analysis, cyber insurance, risk and vulnerability assessment, security analysis, threat intelligence, vulnerability management, security talent recruitment, security training and education, etc.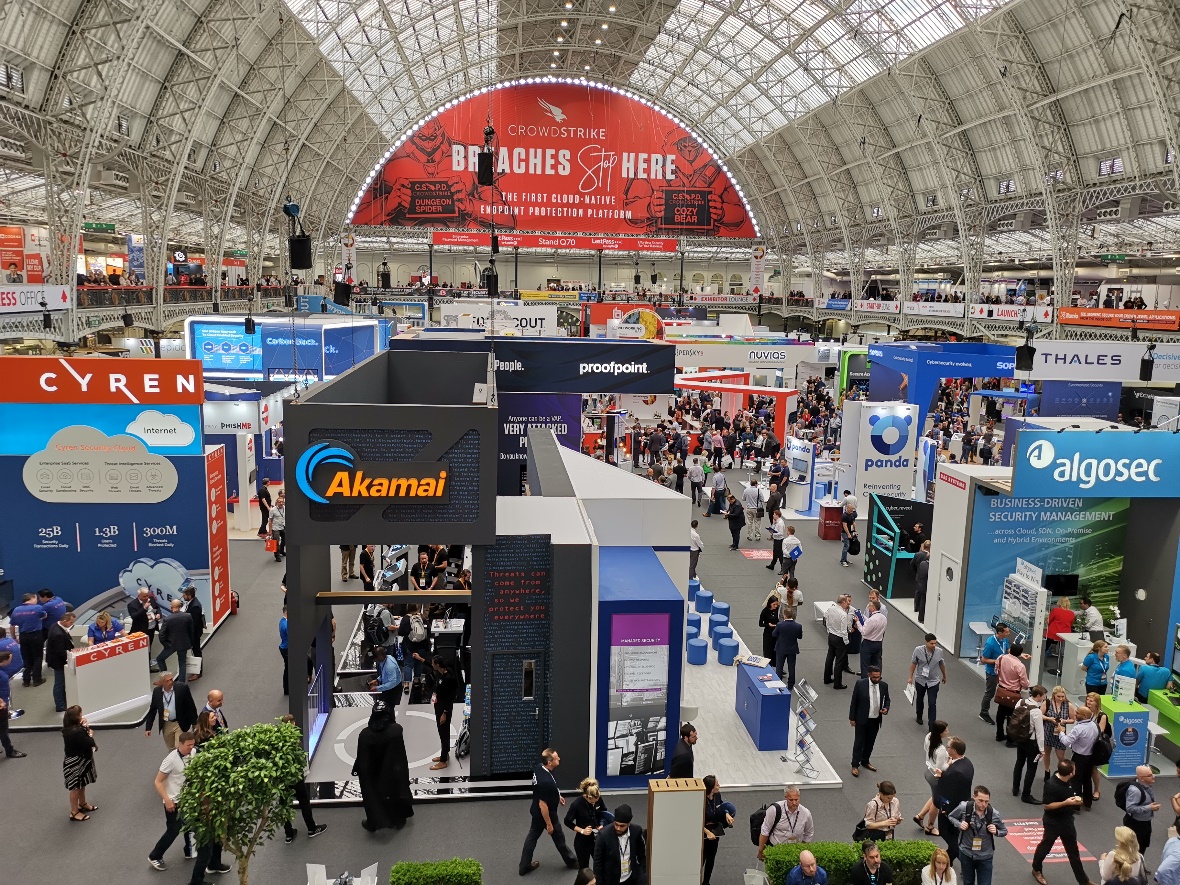 The most impressive part is the keynote speeches, strategy talks and tech talks which focused heavily on technical content. Since MeSince (the Email Client) relates to email security, we share the views of two related speeches. The first expert is Mr. Jon Fielding, the managing director of Apricorn. He gave his speech on the "Understanding & Leveraging GDPR Regulations to Justify the IT Security Spend." The key take-aways of his speech are: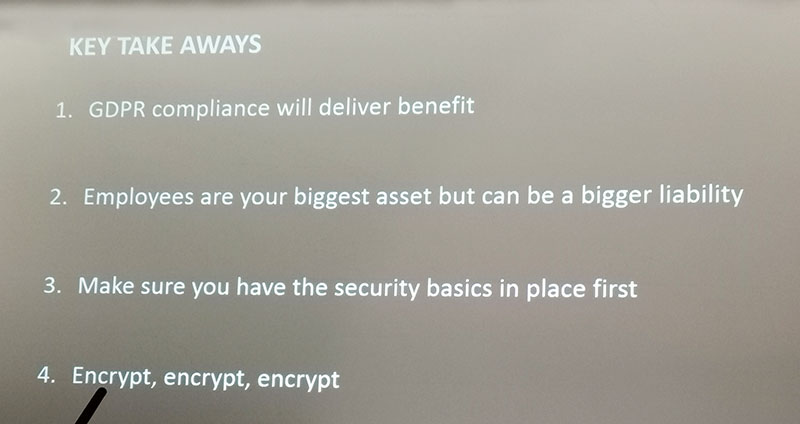 1. GDPR compliance will deliver benefits (rather than add extra expenses);
2. Employees are your biggest asset but can be a bigger Liability (only if the privacy protection wasn't properly addressed);
3. Make sure you have the security basics in place first;
4. Encryption, encryption, encryption (including website https encryption, email S/MIME encryption and other file encryption to any customer's private data).
Then we had Mr. Ian Mann, CEO of ECSC Group. He inspired us with his "Why Artificial Intelligence Doesn't Work & Other Cybersecurity Failed Technologies". In addition, to demonstrating the limitation of iPhone's face recognition technology (One of his colleague's child can unlock his colleague's iPhone with the child's own face), he also shared how artificial intelligence can disappoint us, including the traffic accidents in self-driving cars. However, I am drawn to the part about the "WORST INVENTION", in which he highlighted the so-called "'secure' email portals…", said almost all the email security solutions exhibited at this Expo requires all the emails to be sent to the email gateway provider first, only then should determine whether it is 'secure' or not. This reliance on the gateway provider not only exposes private emails to a third party but also adds potential pitfalls in the email system.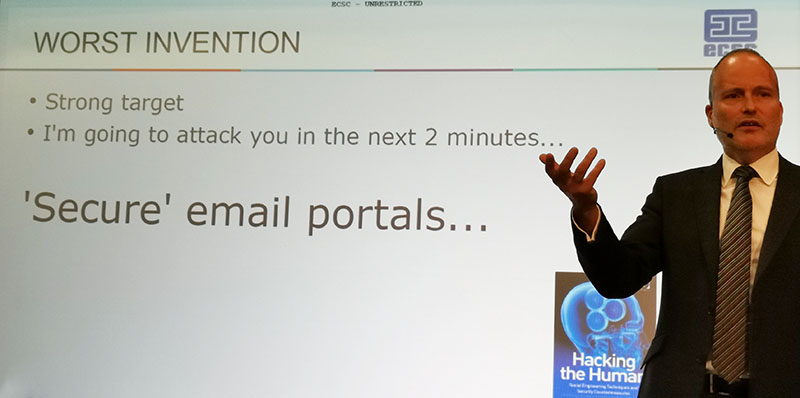 I am a strong believer of his points, as I have personally analyzed and confirmed with the vendors, that at least 10 email security providers attended this Expo are asking their users to resolute MX record to their email gateways. Those third party systems are responsible for scanning whether it is spam, whether it contains malicious links and whether email attachments are malicious code, etc. When an email was S/MIME encrypted, all solutions were either let it through or block it.
In summary, we have had rough ideas on what is on the market for email security solution through this three-day Expo, MeSince's automatic encryption solution undoubtedly bears with strong technical advantages. We believe that email security is a big topic which spawns in its own security ecosystem. Should the future be where almost all the emails are sent encrypted, then the current email security solution will be undoubtedly obsoleted. Despite addressing the security issues of the encrypted emails will then be the utmost importance, the current traditional email security solutions can definitively overcome it by combining MeSince's end-to-end full auto-encryption solution. At the expo, MeSince has discussed cooperation intention with several traditional email security vendors, who are willing to work together to provide a comprehensive email security solution for users around the world.