The world's first encrypted email client software – MeSince public Beta released
Shenzhen, China – August 24, 2018. Today, MeSign Technology Limited, a Shenzhen, China, hi-tech company, launched the world's first encrypted email client software – MeSince, Public Beta, that uses digital certificates to automatically encrypt each outgoing email and add a timestamp to each outgoing email automatically. This software was built with a thousand days and nights of hard work, The company has its own independent intellectual property rights which is released simultaneously globally, The software supports 15 common used languages, supports Windows, Android and Apple iOS, and we are planning to release Linux and Apple MacOS versions in the future.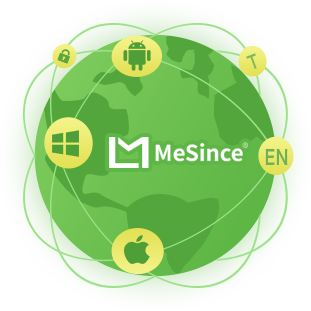 Email leakage has become a global increasingly serious security problem. The only effective way to solve this problem is to encrypt the email content before sending. However, there is currently no email client software on the global market that seamlessly and automatically supports the use of digital certificate to encrypt email. MeSince now implements automatic application of encrypting certificates and the default encryption of every outgoing email, with a trusted time stamp for each outgoing email. MeSince lets users easily implement automatic certificate encryption for each email, protecting personal privacy and corporate secrets from being stolen and used illegally.
MeSince is a free email client APP with client certificate automation. It supports S/MIME standard for email encryption and digital signature, and it supports RFC3161 timestamp. Users don't need to know any extra knowledge about certificate and encryption or do any extra work to set it. Just set up email account correctly, then they can send encrypted email automatically. MeSince can cooperate with all email client software that support S/MIME for email encryption and decryption, such as Microsoft Outlook, Mozilla Thunderbird and Apple iMail.
At present, the global Internet security industry is promoting the "HTTPS only", because http is a plain text transmission. However, the email used daily for work and life is also in plain text transmission, so email also need to be encrypted – "S/MIME only". We firmly believe that with the efforts of MeSince, the simplification and automation of the complex S/MIME encryption, MeSince will quickly be spread and widely used in business and personal email communication to accelerate the popularization of email encryption. MeSince promotes the "S/MIME only" to fully achieve end-to-end encryption for all messages and completely protect the Internet user's information security and privacy to let the Internet serve mankind better.
The MeSign Apps (Android, iOS, Windows) and related systems have undergone white box security testing performed by Cure 53, a leading German code security auditing company. Welcome to download MeSign App and enjoy it, thanks. We welcome your comments on the Public Beta, and we have a big Gift for you .